We at Bitcoin Wiser had been busy lately covering through the tracks of origin of money and Bitcoin. Money is now free, from the clutches of government and the central banks. With almost 750+ cryptocurrencies in the virtual space, you can be your own bank now (yes you read it right, not a customer but a whole goddamn bank)!
The best sources to learn about anything in this world are books, quite unreal right in the world of Scoopwhoop and Buzzfeed? Well money is serious business and hence requires an in depth understanding, not just reading headlines of clickbait articles.
Here are our top picks to learn about Bitcoin : how did it come into existence, how is it going to be the new world order, why was it necessary for money to evolve into something called cryptocurrency, who are (or were) the people involved with the invention of this currency and what potential does this currency holds in the current times and for the future.
In order of preference:
Well if there was a book which can suitably be titled "unputdownable" – this is it. If you liked the fast paced entrepreneurial drama, famously called, The Social Network which depicted the story around Facebook then this book is surely for you. From page 1 itself you start on the ride like David Hasselhoff in his KITT and you don't want to sit up from your beanbag until you finish this book. This is the finest book which takes you through all the real characters involved with Bitcoin and tracks it down in a chronological order. Be it Satoshi Nakamoto, Hal Finney, the Winklevoss Twins, the legal drama around the world around Bitcoin and people caught behind bars for picking up such a radical experiment, stories moving from Argentina to USA to China, etc. This one should be your number one pick to know about Bitcoin! And this could be possibly the only book which you might have to read and not move further unless you're fascinated by the possibilities of Bitcoin.
2. The Internet of Money by Andreas M. Antonopoulos
Andreas is the best voice on the internet who can handhold you through the tough oceans of Bitcoin and blockchain. He is one of the most respected personalities in the field of crypto right now. If you're not following him via his Youtube channel then you're probably committing a sin! This book is like an anthology of most of his speaking opportunities wherein he explains marvelously why Bitcoin is real money and how this monetary system is the one which is relevant in today's times. If money excites you and if you want to understand how Bitcoin will make you more of it, you should probably get this today!
3. Cryptocurrency: How Bitcoin And Digital Money Are Challenging The Global Economic Order by Paul Vigna and Michael J. Casey
"Anyone who views Bitcoin as a Voodoo concept must read this totally comprehensible narrative outlining the history of money and how Bitcoin might become a new and better currency" – Arthur Levitt, former Chairman of the Securities and Exchange Commission.
I think the above reason is enough to pick this book up.
4. The Law of Bitcoin by Jerry Brito et al.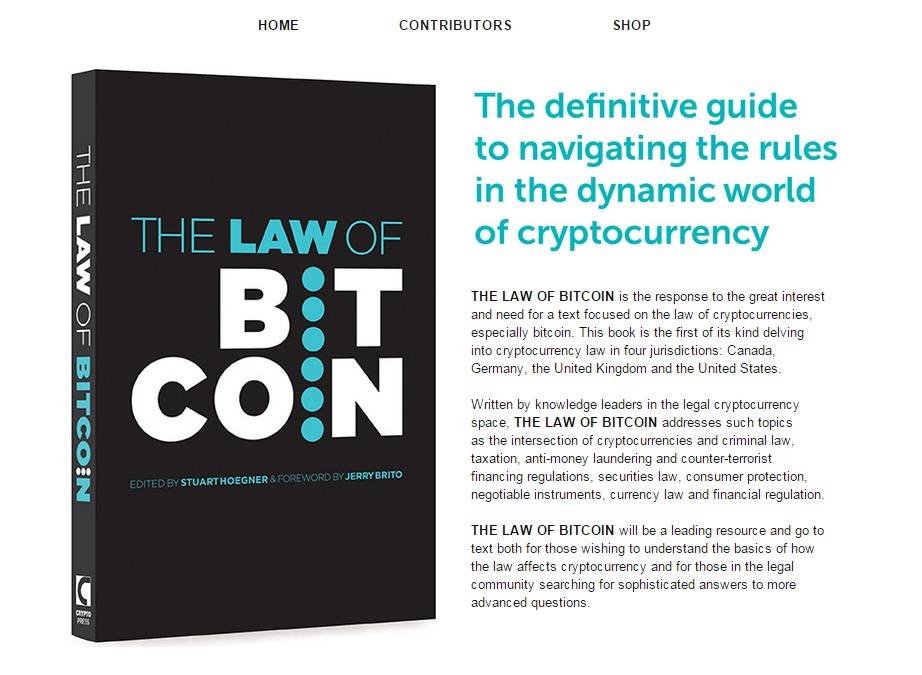 This book is for those who own a Bitcoin or some bits of it. We know the thrill dies once you have purchased the Bitcoin. You wait for it to rise in value and guess what, it does not rise as you thought it out to be. A smart person might think of better avenues of its use but will be challenged by the familiar legal and regulatory hurdles. While in India the taxation rules are still unclear, be it short term or long term, this book mentions the compliance to be adopted across Canada, UK, Germany, Unites States, and a few regulations in the making across the world. This book is a clear win to predict what the legal or regulatory framework might look like in the developing countries in the next two to three years.
5. Bitcoin and Cryptocurrency Technologies – A Comprehensive Introduction by Arvind Narayanan

If you are able to read the top 4 books as recommended above then the icing to the cake is this book mentioned at no.5. This one is straight out of Princeton University's academic counsel on the world of Bitcoin and Blockchain. You might want to stay away if you are not a person who identifies him/her-self as a techie or an enthusiast. MUST DO: go through the free Coursera courses the professors have put together which we feel is perhaps the best education series on the internet right now to understand Blockchain. Arvind is one of the top academicians in the field of Blockchain.
Whether you are a student, software developer, tech entrepreneur, or researcher in computer science, this authoritative and self-contained book tells you everything you need to know about the new global money for the Internet age. How do Bitcoin and its block chain actually work? How secure are your bitcoins? How anonymous are their users? Can cryptocurrencies be regulated? These are some of the many questions this book answers. It begins by tracing the history and development of Bitcoin and cryptocurrencies, and then gives the conceptual and practical foundations you need to engineer secure software that interacts with the Bitcoin network as well as to integrate ideas from Bitcoin into your own projects. Topics include decentralization, mining, the politics of Bitcoin, altcoins and the cryptocurrency ecosystem, the future of Bitcoin, and more.
So patrons, here is the best list of books to buy from Amazon this week (we recommend Kindle editions to be bought as it'll be a real expensive proposition to buy hard cover). Hope you are not misguided anymore by the following large scale advertisements in the Indian newspapers by self proclaimed gurus who run large ponzi schemes (image below)….